A16.5 SPORT TO SALE - 2017
Astus 16.5 sport with rotating daggerboard + road trailer with beach carriage
VEWABLE; BRECH (56 400)
PRICE: 18 000€ TTC
Demo boat of the shipyard: very little used
Equipment included in the price:
aluminium rig
Main sail, one reef
Jib with furler
2 trampolines
forward locker
White gelcoat - leisure decor (simple line red)
Sails :
Gennaker 20 m² on carbon bowsprit & furler
Extra for tri-radial Gutter Sport Sails (20 m²)
Sacrificial anti UV strip on jib
Options Deck Fittings:
Traveler Main sail
Minor fittings sport (6 blocks Main sheet,telescopic tiller extension)
motor bracket
Rotating daggerboard
Stickers version « sport »
Options Transport :
Road trailer with beach carriage PTAC 400 kg ( FR)
Pour toutes demandes d'informations, veuillez contacter le chantier: 02 97 29 11 20/ contact@astusboats.com
FOR SALE: A16.5 SPORT YEAR 2016
ASTUS 16.5 SPORT, with trailer, excellent general conditions
YEAR: 2016
PRICE: 16 500€
VIEWABLE: ST HERBLAIN (44)

Approved Category C for 3 persons and Category D for 5 persons.

Very little used this year.

New road trailer, with beach carriage and hoist

Sails :

Main sail Gutter 11,5 sqm with one reef
Gennaker 20 sqm Gutter on carbon bowsprit and furler
New jib Dacron 5.5 sqm on furler
Minor fitting sport

+ roues jumelées mise à l'eau et roulettes pivotantes AV
+ clamcleat for gennaker sheets
+ locked hatch
+ compass
+ motor bracket
+ possibilité moteur HB électrique connecté Torqeedo 1003 L, équivalent 3 CV, très peu servi à 1000 € (prix neuf : 1850 €), avec ordinateur de bord et calcul GPS de la distance restante, alarme lorsque la batterie est faible. Autonomie jusqu'à 20 milles.
+ pare-battages
+ grappin
etc...

BATEAU IMMATRICULE, très sûr même en solitaire, et rapide (+ de 20 nœuds au portant quand les conditions s'y prêtent).
Cntact: M Chapuis: 06 63 29 14 86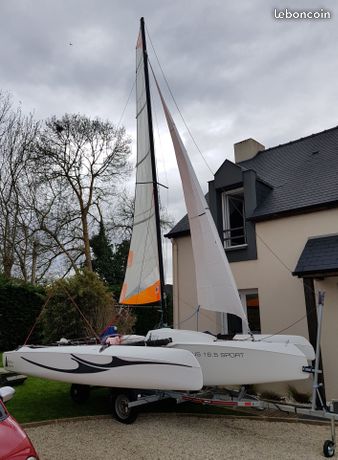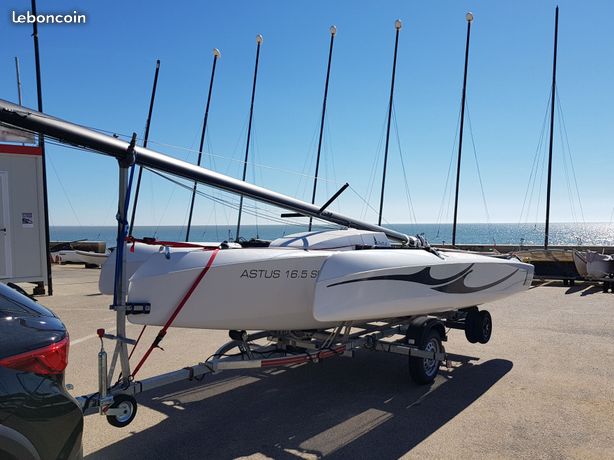 FOR SALE: A20.1 YEAR 2007
ASTUS 20.1 Polyester with road trailer
YEAR: 2007
PRIX: 11 900€
LIEU: BRECH - viewable to the shipyard
N°: FR-ATB21040G707
new mast,rigging and sails
sold with:
Gennaker de 20 sqm with bowsprit
Mainsail rail and carriage
6 block main sheet
mast stepping kit
Stainless steel bar for transport
Forward stainless steel pulpit
Engine bracket
Bathing ladder
Mattress
Roadtrailer Nautilus with brakesf PTAC 750 Kg
4 strokes engine
For more information you can contact M Malbranque:malbranque.christian@bbox.fr
or Astusboats shipyard: contact@astusboats.com