Astus 20.5
COASTAL CRUISER
Easy to rig, handle and transport between stretches of water, the Astus concept responds to a real demand from sailors for high-performance, nomadic boats.
In line with our desire to offer outstanding, user-friendly products we are pleased to present our new model for the 2018 season, the Astus 20.5, following on from the Astus 20.2, over 120 versions of which have been sold to date.
Since the successful launch of the Astus 16.5 2 years ago, in partnership with VPLP naval architects, we have continued to improve our range. While remaining true to the original ASTUSBOATS idea, the introduction of more modern, streamlined designs has enabled us to offer our customers simple and efficient boats.
Born of a second collaboration with the VPLP Design Agency, the Astus 20.5, is set to appear on wish lists throughout the sailing community.
It retains all the features which made the Astus 20.2 so attractive and has even more character :
- Easy to rig and handle
- Transportable on the specially adapted trailer
- Retractable floats offer limitless travel opportunities.
- Economical, maintenance is minimal and garage storage a real possibility
- Nomadic, movement between stretches of water has never been simpler
- Personalizable, with multiple options to suit every sailing style
- Stable, with 930 litre floats
- Streamlined hull which enables the boat to glide through water and increases speed
- Tulipped hull for effective spray deflection.
- High-performance with modern, sporty lines
This new model has been presented at Boot in Düsseldorf last January[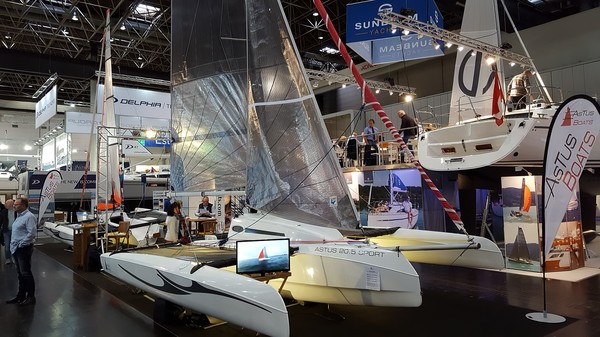 Two versions of the Astus 20.5 are available, each adapted to your style of navigation :
- A leisure model for gentle,family sailing
- A sports version to satisfy regatters (vaccum system central hull)
Nominations and awards
The Astus 20.5 was nominated for the European Yacht of the Year in 2018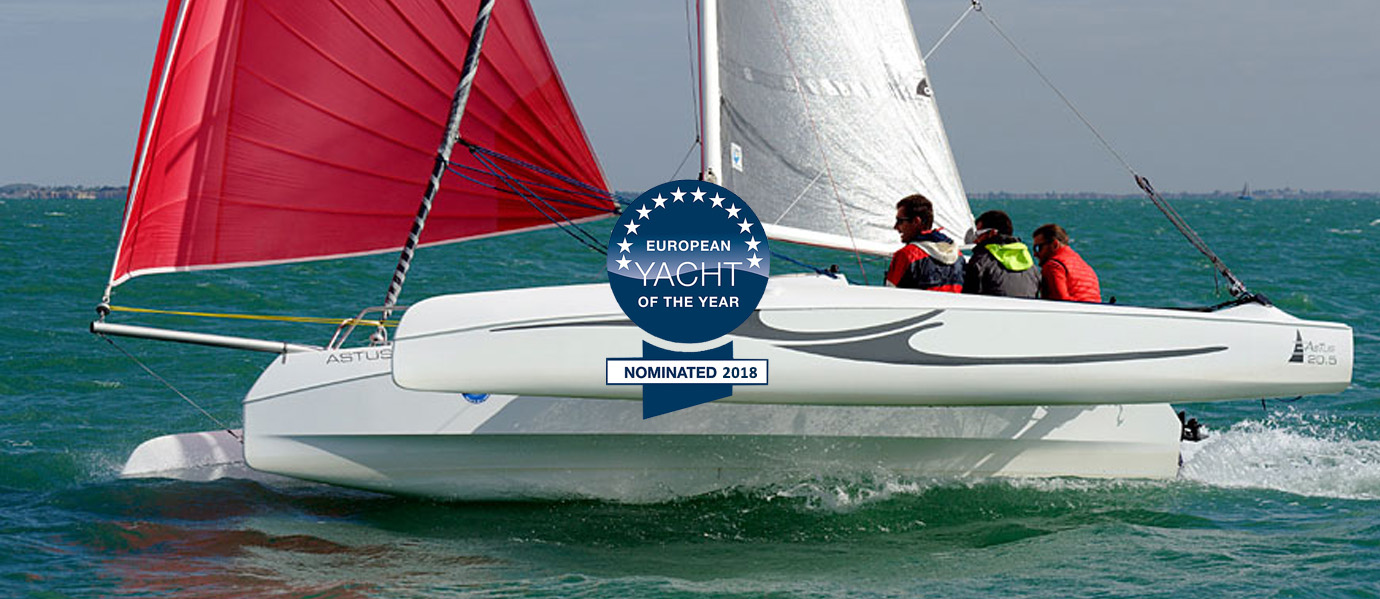 Technical features
Overall lenght central hull: 5.95 m
Float length: 5.90 m
Max unfolded floats width: 4.50 m
Folded floats width 2.48 m (lower than the road gauge)
Displacement: 470 Kg with central hull in infusion
Float volume: 930 litres / float
Draught:1.25 m/0.25 m pivoting center-board and rudder
Sail area upwind: 21 m² / 24 m² sport version
Sail area downwind: 34 m² / 42 m² sport version
Motorization max: 4,5 kw (6 HP)
EC Homologation:

Categoy C: 5 persons 425 Kg
Category D: 7 persons 550 Kg
Design: Jean-Hubert POMMOIS
Architect: VPLP Design
Prices
Astus 20.5 is sold with:
mainsail, one reef with aluminium boom and a jib in dacron on furler

front locker that can be locked

4

block mainsheet tackle

gelcoat white

Price from : 34 800

€ TTC

(vat included )
ASTUS 20.5 Sport version 20.5S is sold with:
Mainsail (one reef) with boom and a jib in Aramid Black technora on furler

shroud

Main sheet traveller


6 block mainsheet tackle

telescopic Tiller extension

gelcoat white

sports stickers
Principal Options available on the ASTUS 20.5
20 m² gennaker on bowsprit and furler
26 m² gennaker on bowsprit and furler
Winch for the gennaker
30 m² asymetrical spi and deck hardware (bowsprit)
price deduction for sport sails in Square cross cut instead of Aramid Black technora
Extra cost for sails in PX Black
Possible wing mast
Mattress + bunk plank
Removable cockpit table
Gallery block
chemical toilet
2 opening portholes
1 opening porthole on the roof
swim ladder
stainless steel pulpit
mainsheet traveller
compas
motor bracket
Mast stepping kit
stainless steel bar for mast stepping and transport
non braked road trailer CE- certificat PTAC 750 kg
braked road trailer CE - certificat PTAC 750 kg
spare wheel + support
armament safety kit
kit anchor 5 kg
antifouling
Possibilité de gréement carbone et coque centrale en infusion.
Details of the safety kit - Navigation less than 6 nautical miles - For 4 personns
4 life jackets Storm 100
The horseshoe buoy with floating reversal light
3 hand held flares kit
Signal Mirror (with a visor)
Waterproof flashlight
A 10 litres rigid bucket with end
Set of wood pinoches (5 sizes)
Power portable extinguisher 1 kg ABC
Hand pump
Anchoring Kit (anchor 5kg, 10m cable, rope, shackle)
A pouch with 3 flags: N, C et National
Hand sounding lead (30 m)
First-aid kit (to be completed)
Warning Triangle (black)
Fog horn
Paddle/telescopic boathook
This listing doesn't contain the navigation compass,the sailing instructions, the tools and the material for small repairs, the paper of electronic charts(maps) concerning the navigation zone, the navigation lights for night sailing.
The recommended navigation compass, the sailing is the Plastimo Iris 100 compass.
It can be easily installed on the door and is intended to take occurate bearings.
Videos
Unfolding of floats of Astus 20.5
Folding of the floats of Astus 20.5
Aboard the Astus 20.5
Astus 20.5 sailing
Nice sailing on the Astus 20.5
Astus 20.5: visit
TriSpeed Cup Arradon 2018: Thierry and Eric on the Astus 20.5