Astus 22.5
THE COASTAL CRUISER
After major successes of the Astus 16.5 and the Astus 20.5, we continue to expand our range, signed by VPLP Design with the launch at the end of the year 2020, a new model, the Astus 22.5, which will replace the Astus 22.1
True to the successful concept of Astus trimarans, the Astus 22.5 is transportable like others Astus. Modern and fast, with a length of 6.90 m, a width of 4.90 m and 4 beds possibility, it will be ideal for family outings.
It retains all the features which made the success of our trimarans :
- Easy to rig and handle
- Transportable on the specially adapted trailer
- Retractable floats offer limitless travel opportunities.
- Economical, maintenance is minimal and garage storage a real possibility
- Nomadic, movement between stretches of water has never been simpler
- Personalizable, with multiple options to suit every sailing style
- Stable, with 1150 litre floats
- Streamlined hull which enables the boat to glide through water and increases speed
- Tulipped hull for effective spray deflection.
- High-performance with modern, sporty lines
This new model has been presented at Paris for the Nautic in 2021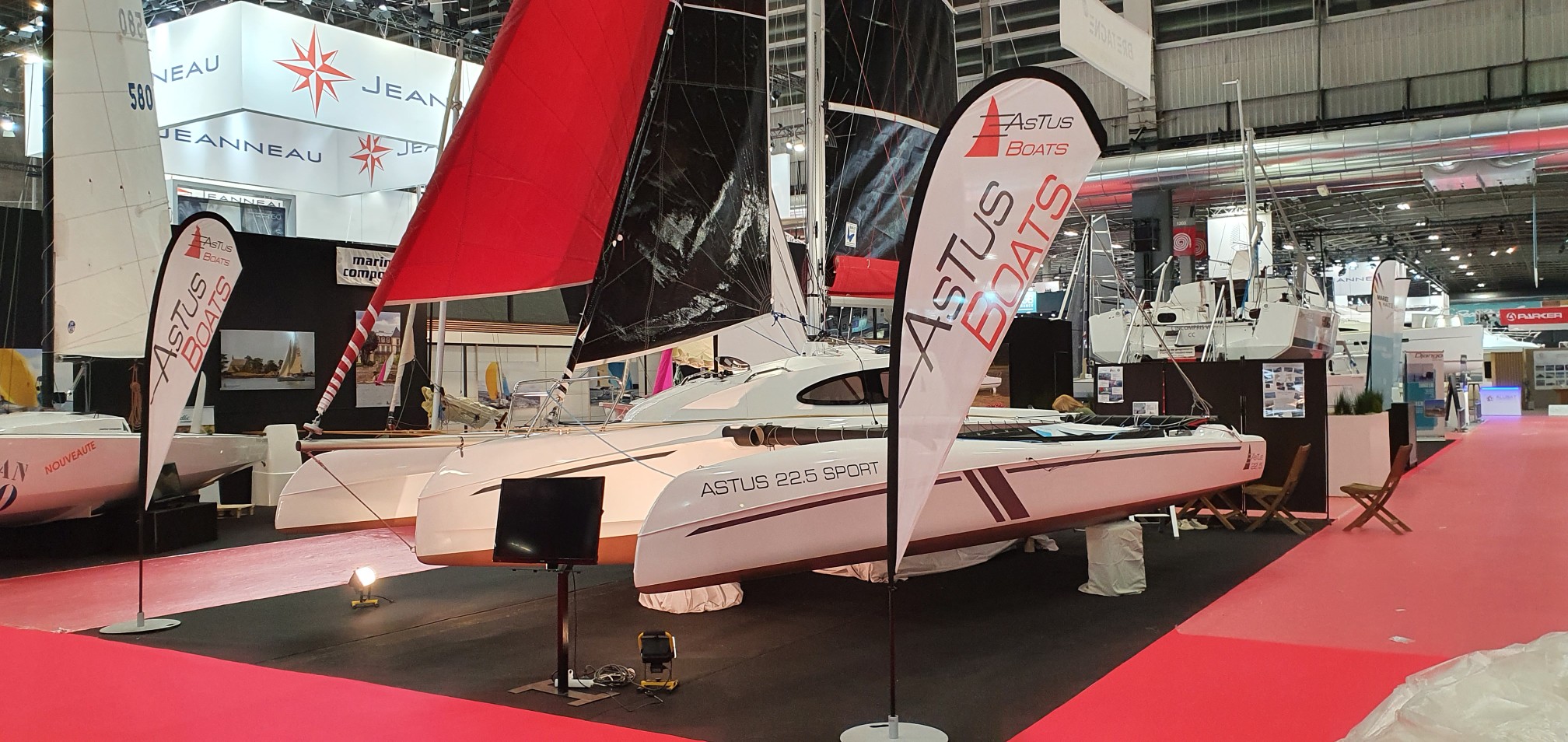 Two versions of the Astus 20.5 are available, each adapted to your style of navigation :
- A leisure model for gentle,family sailing
- A sports version to satisfy regatters (vaccum system central hull)
Nominations and awards
The Astus 22.5 is nominated for the election of the European Yacht of the Year2023
Technical characteristics
Length of central hull: 6.95 m
Overall length 8.30 m
Width unfolded: 4.90 m
Width folded: 2.49 m
Length of the mast: 9 m
Draught: 1.40 m-0.34 m
Weight: 650 kg
Height under beam: 1.65 m
Hull by vaccum infusion.
Sails area
Main sail: 21 sqm
Jib: 9 sqm
Gennaker: 26 sqm
Spi: 43 sqm
Prices
Astus 22.5 is sold with:
Aluminium rig

Main sail leisure with sliders in dacron, one reef

Jib leisure in dacron on carabiners

Rotating daggerboard

2 trampolines

Mainsail rail and carriage

Anchor locker

6 blocks main sheet tackle

2 double camcleat Spinlock

Hatch under the cockpit

Fix portholes

Plexi cabin door

2 winchs B8 on the roof

Price from : 58 900

€ TTC

(vat included )

Principal Options available on the ASTUS 22.5
Gennaker leisure version & furler
Gennaker sport version on bowsprit & furler
Asymetric Spi on bowsprit
Sport sails in Aramid - Black Technora
Sport jig and main sail in Square
2 winchs self tailling ST15 Harken
Jib cover
Jib Furler - Euro 8 with endless loop
Jib furler - Furlex 50
Supplementary reef
Sacrificial anti UV strip on jib
Lazy bag on mail sail and lazy jack
Mattress & bunk plank
chemical toilet 10L
Removable Cockpit Table (plank in mattress options)
Inside/Outside articulated table - Lagun plate 700x400
Separation curtain
Opening porthole on the roof
bowl stainless kitchen
Portable stove
Angle in teak on shelves and on renforced beam of the mast
Flexitech covering
Upgrade finish for the cabin
2 polyester longitudinal shelves + 1 transversal shelve
Electrical board + 2 ceiling light + battery 20A + battery disconnect
Handrails on the roof (long 45 cm)
2nd Gallery block
Front pushpit
2 stainless steel pushpit at the stern
bathing ladder 3 steps
engine bracket
tiller under the tubes
sprayhood
Compass Contest 101 built-in
Safety bag – 6 miles, 6 persons
Mooring Kit: 7 kg anchor, 10m of chain dia. 6mm
three-colour navigation lights + cabling ( led)
mast stepping kit
Kit for open and close floats + sleeve mast stepping kit


Antifouling of principle hull and floats
epoxy treatment and antifouling or Cpppercoat



Possibility of Carbon rigging (mast, boom) & textile shrouds
Details of the safety kit - Navigation less than 6 nautical miles - For 4 personns
4 life jackets Storm 100
The horseshoe buoy with floating reversal light
3 hand held flares kit
Signal Mirror (with a visor)
Waterproof flashlight
A 10 litres rigid bucket with end
Set of wood pinoches (5 sizes)
Power portable extinguisher 1 kg ABC
Hand pump
Anchoring Kit (anchor 5kg, 10m cable, rope, shackle)
A pouch with 3 flags: N, C et National
Hand sounding lead (30 m)
First-aid kit (to be completed)
Warning Triangle (black)
Fog horn
Paddle/telescopic boathook
This listing doesn't contain the navigation compass,the sailing instructions, the tools and the material for small repairs, the paper of electronic charts(maps) concerning the navigation zone, the navigation lights for night sailing.
The recommended navigation compass, the sailing is the Plastimo Iris 100 compass.
It can be easily installed on the door and is intended to take occurate bearings.
Improvement : new rudder bar
Folding and unfolding floats
Test by Voile magazine
Astus 22.5
Test by Multicoques Mag