Astus 22
Introduction
ASTUS 22: the real small and modern small coastal cruiser

Easy to use, speed and stable

Having the same principles of the Astus, the model 22 is fitted out with:
telescopic floats which make possible a transport without any dismantling, an easy mast stepping, a use facility,

a large protected cockpit,

two pivoting center-boards (which allow to make the salon free) in order to quietly come alo,gside the beach without any problems and presenting a use security with close-cropped stones case.

Having tried and tested the flared hull on Astus, the same was chosen for Astus 22.
This garantees outstanding performances (with a narrow floating width) and a boat which hardly wets (the concave acts as a spray deflector).
The small pluses of Astus 22:
Large inside volume with a double front bunk and 2 simples back ones, which allow a comfortable sleeping for 4 people.

A galley which allows a dish warming sailing.

The salon with a table for eating inside in case of bad weather. The large salon is designed for 5 persons.

Toilets which can be separated from the salon.

A nice outside area with a large cockpit of 3 m length and 1,80 m width.

3,5 m length and 1,20m width trampolines for the whole family. It gives the possibility of a 2 places tent for an extra sleeping.
Powerful boat with 850 litres floats and a unfolded width of 4.60 m which allow a safety posture on the sea to master the 28 m² sails.

This guarantees the outstanding performances.

Once the floats folded, Astus 22.1 meets the requirements of the road gauge.

Possibility of stepping up the mast alone and in a safe way (lateral mast position, winches to step up the mast)

A chain locker with closing which can be also used to store bowsprit. (This prevents the water from entering the cabin).

A big door hood to allow an easy internal/external movement. This helps the movement on board
An opening deck porthole to make it possible to ventilate and for an increased light.

An electrical panel which the basic functions. (lighting, batteries, cigarette-lighter outlet, headlights on full beam possible).

Locker in the cockpit to store the material and which can be locked.

Vast storage place under the cockpit for the bags and the supplies.

Limited weight to allow the transport without the E licence (with a medium sized vehicle)

Infusion manufacturing process which guarantees stiffness and lightness.
Astus 22 is simply a real small coastal cruiser: more rapid and easy to transport by road.
Technical features
Technical features:
Length central hull: 6.65 m

Overall Length: 7.95 m

Folded width: 2.53 m

Unfolded width: 4.60 m

Mainsail: 19 m²

Genoa: 9 m²

Mast Height: 8500 mm

Draught: 325 mm (central hull)

Draught: 1300 mm (low drift)

Headroom: 9600 mm (without antenna and lights)

Light displacement: 655 kg

Medium displacement: 1070 kg (4 crew members equipped boat)

Max displacement: 1380 kg (8 crew members)

Motorization max: 9 HP

Homologation CE:

Category C: 5 persons

Category D: 7 persons
Design: Jean-Hubert POMMOIS
Architect: Stéphan VALLET
Nota: the new European road gauge is now 2.55 m, you have then the possibility to transport your Astus 22 all over Europe
Prices
Astus 22 is sold with: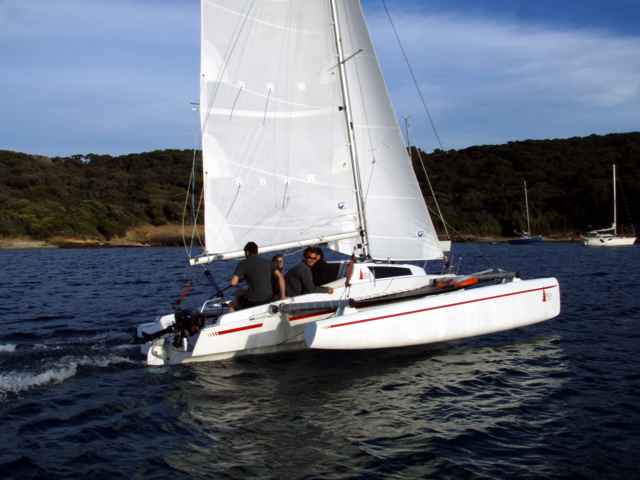 A 2 reefs mainsail and a dacron jib on furler

A mainsail traveller

An Anchor storage

An opening deck hatch

Fixed Portholes

a balcony

2 kitchens blocks
Price from:40 900 € TTC ( Vat included )
Principal Options available for the ASTUS 22:
A 25 m² gennaker on bowsprit with emmagasinor
A 30 m² asymmetrical spi on bowsprit
Plus value mainsail and pentex jib
Mattress + front board bunk
Movable table
Chemical toilets
Storage in front tube
Outboard motor
Motor
Bamboo floor
Braked road trailer for the launching to water
Mast kit and transport bar
Anchoring kit including one 7 anchor and a 10 m chain
Armement safety kit less than 6 nautical miles
Antifouling for the central hull and the floatings
Pack comfoPack electricrt
Presse
Specialist press tried it...

Presse
Here are the last specialized press releases concerning ASTUS 22
Voile Magazine N°161, May 2009
Voiles et Voiliers N°456, February 2009
Bateaux N°191, December 2008
Photos
Videos
The Astus 22 with
Opening and launch system